Okay, so maybe school just went back after winter break a few weeks ago and you're already thinking about what to do for Arizona Spring Break with Kids … I am all about planning things way in advance! And really, spring break will be here before you know it. So might as well get things planned now & not worry when the time comes. Or maybe spring break is here and you're scrambling to make the week a fun one. That's awesome too! Below I give plenty of suggestions of things to do locally as day trips or day activities, that you can plug into your calendar for the week without having to make tons of plans in advance.
Either way, don't worry! I have you covered. With a wide range of suggestions of things to do in Arizona for Spring Break, you'll be sure to have inspiration hit of what will be just right for your family.
***Affiliate Links are used in this post. As an Amazon Associate, and affiliate publisher for several companies, we earn a small commission from qualifying purchases***
5 Places to go in Arizona for Spring Break with Kids:
1. Flagstaff
One of our all-time favorite Spring Break trips was a short trip up to Flagstaff for a couple of days. Going to Northern Arizona in March is fun because even though it is very warm down in the Phoenix Valley, it is much colder up north.
What to do-
Play in the Snow:
We were able to grab sleds at the Walmart in Flagstaff for $5 and play in the snow just 20 minutes away. This was so much fun! Your kids will love getting one last snow trip in for the year before the summer heat comes to town.
If your kids are interested in snowboarding or skiing, this is usually the last opportunity for them to try it out until the next season as well. Tickets are usually discounted since it is so late in the year and the snow is starting to melt. Conditions are not ideal for good skiing and snowboarding when the snow gets slushy, but if you're looking for a cheaper occasion to let them try those sports out, this could be the perfect time.
The first time I learned to snowboard was when my husband and I were dating in college! He took me over spring break and even though by midday the snow was getting slushy, I was still able to pick it up pretty easily. Snowbowl is a great spot for Arizona snow sports.
Chocolate Falls:
The other highlight of our spring break trip to Flagstaff, AZ was visiting Grand Falls. Better known as Chocolate Falls, Grand Falls is a hidden gem of Arizona. Tucked away on an Indian Reservation about 1 hour north of Flagstaff, these rushing falls are an incredible sight to see. Spring is the best time to go because as the snow melts up the river, the falls become bigger and more majestic.
After driving down the bumpy dirt road to Chocolate Falls, you can get out at several vista spots and admire the crashing falls. Take pictures, have a picnic, or even hike down to where the rushing water flows. It is extremely muddy down by the water. If you don't want your kids getting back in the car with muddy shoes, just make sure they don't get too close to the riverbank. The water looks like rich, chocolate milk because it is such muddy water.
Stick around for the sunset. The contrast of the beautiful Arizona sky against the brown flowing water is beautiful.
Where to Stay-
It can be difficult to find an affordable stay in flagstaff. Since it's a smaller town that attracts many out-of-towners, they tend to capitalize on this. There are SO many cute airbnb's in the area but they can be pricey.
I always seem to find the best deals on Priceline and Expedia no matter the destination. If you have an account they will even send you extra coupons to your email. I like to select hotels that have breakfast included, especially when traveling with kids, so then you don't have to worry about finding food in the morning for everyone and spending extra money. Always read the reviews of the hotels and make sure you select one that has a good cleanliness rating!
Where to Eat in Flagstaff-
Since Flagstaff, AZ is a college town, there are so many good food options! The main area of downtown Flagstaff has tons of great options and is such a cute, quaint area. The only downside of eating in this area is you have to pay for parking. Most lots & parking spaces are metered. But it's not very expensive, just an extra fee to be aware of.
If we are looking for something fairly quick & easy, we frequently go to Lumberjack Pizza. You can order pizza by the slice, and they are huge pieces! Another really good pizza place that isn't right downtown is Fratelli's Pizza. That place is delicious and you can get a big pie for the whole family to share.
We recently tried MartAnne's Mexican Restaurant and were pleasantly surprised with how good it was! We loved the Mexican corn dip as an appetizer and everything else we got was delicious as well. Take note that the green chile pork is spicy, and even the beans and rice were too flavored or too spicy for our young kids to eat off our plates.
A couple of other places I would recommend are Satchmo's (BBQ Restaurant) and Diablo Burger. We found tons of other highly-rated restaurants as we looked for new places to try, but those are just a few of our tried & true food spots in Flagstaff.
2. Sedona
We are big fans of Sedona, Arizona. We recommend going there no matter what time of year it is! But spring break is an especially good time to visit because the weather is perfect and you can just go for the day if you don't want to stay somewhere. I have already written a 1 Day Itinerary in Sedona if you're looking for Easy Hikes to do in Sedona with your kids.
Where to stay in Sedona-
Finding somewhere IN or NEAR Sedona that is affordable can be a challenge. I would say it is hard to find a stay under $200 a night in Sedona. As I have mentioned previously, I always check Priceline and Expedia first for great deals on hotel stays. I love how easy it is to find deals on those sites.
The best option for staying over night near Sedona, if you're on a budget, is to camp. There are a few areas nearby that are dispersed camping land. These areas are free, but not maintained. This means there aren't any facilities provided so you will have to bring all your own water and bathroom solution. Here are guidelines from the Coconino National Forest website: https://www.fs.usda.gov/detail/coconino/recreation/?cid=stelprdb5313448
You can also book a camp site at a maintained campsite in Sedona such as Manzanita Campground or Chavez Crossing Group Camp Site. These are beautiful camp sites that will keep you close to town and all the great hiking trails in Sedona. There is a nightly fee, but it will be significantly less than staying in a hotel.
What To Do in Sedona-
As I already mentioned previously, I have already written a Day Trip Itinerary for Sedona, Arizona that you can read for some of the best Easy Hikes in Sedona. You won't be sacrificing seeing the views Sedona has to offer, but you will get the chance to share those views with your kids since they are all fairly easy. If you are visiting during a busy time of year such as Spring Break, just be prepared for the chance of extra people on the trails with you and limited parking.
Sedona recently implemented a free shuttle service to some of the more popular trails. Take the stress out of your day of circling around to find parking and jump on the shuttle! There are 2 lots to park and leave your car while hiking. Get all the details on their site: https://sedonashuttle.com/
Aside from hiking, you and your family might enjoy some of the excursions offered. Ride ATVs through the red rocks, go up in a helicopter for an arial view, or horseback ride in the uncharted areas most people dont get to see. I love to find deals for these types of activities on Groupon. https://www.jdoqocy.com/click-100654618-15245442 . You can regularly find activities for up to 70% off on Groupon
There are also tons of fun shops downtown where you will find unique souvenirs. We love the candle shops where you can watch them making candles. They use all colors of wax and create beautiful designs. These are the most intriguing candles you'll ever find. Once we went in a few of those shops, we couldn't help but leave with one.
Where to eat in Sedona-
If you are looking for something causal and delicious for the whole family, I recommend going to to Outlaw Grille. Their burgers are SO good. They also have a few other sandwich options like pulled pork, Reuben, or grilled chicken if you aren't feeling a burger. And some incredible baby back ribs or salads too. This is a family owned and operated business. We've never had a bad experience eating there!
By far our favorite place to eat in Sedona is Hideaway House. This is a pricey-er option, but the view is SO worth it. They have really good pizza and crafted drinks.
A couple other places worth mentioning are Tortas de Fuego and Black Cow Cafe. We have gone to Tortas de Fuego for both breakfast and lunch and their menus for both options are delicious. If you haven't ever tried a Mexican Torta- which is basically a Mexican sandwich… you need to here. I love getting it with carne asada! I'm drooling just thinking about it now. This is also a very affordable, casual spot to get food.
Black Cow Cafe is located in uptown Sedona with all the fun shops. They have a bakery with a variety of pastries as well as the best homemade ice cream! They have prickley pear flavored ice cream which is super unique! You will want to make a stop into this little cafe for a sweet treat after eating lunch or dinner somewhere else.
3. Chiricahua National Monument
What to do-
Not convinced the Chiricahua's should be on your radar for Arizona Spring Break with Kids? Well think again! Read our post- 7 Reasons Chiricahua National Monument is Worth Visiting to see why it is an underrated Arizona destination.
There is TONS of hiking to be done, and many trails are super family-friendly. You and your kids will enjoy seeing the unique rock formations. They will have something cool to share when they go back to school after break. Plus, you won't break the bank taking them on this fun adventure. Entrance to the park is free!
You can take the kids to the ranger station on your way into the park where they can learn about becoming "junior rangers". Upon completing a booklet of activities where they learn about protecting national parks and wildlife, they can get sworn in as Junior Rangers. Check out a free Discovery Daypack with a pair of binoculars, a magnifying glass, and some field guides to help them earn their junior ranger badge & certificate. https://www.nps.gov/chir/learn/kidsyouth/beajuniorranger.htm
If you aren't wanting to dedicate your entire break to hiking in the Chiricahua Mountains, you can also drive the 7-mile scenic route. Capture beautiful views and witness the landscape change. There are several spots you can get out and get an up close view of the rock formations without having to hike all day. At the very top of the drive, you will see why Chiricahua National Monument is nicknamed the "Wonderland of Rocks". There are plenty of other things to do nearby in Southern Arizona, so this can be just one part of your Arizona Spring Break.
Where to Stay-
Bonita Campground is a beautiful, well-maintained campground in Chiricahua National Park that can be booked on their website. https://www.nps.gov/chir/planyourvisit/bonita-canyon-campground.htm
For popular dates such as spring break, you will want to book in advance to ensure you get one of the 26 spots. There are flushing toilets, running water, and trash services available for visitors. For a small fee of $20 a night, this is an affordable, convenient option for your visit.
If you want more space to yourself, to save as much money, or there aren't any campsites available for the dates you are wanting to visit, you can also camp in the nearby dispersed camping areas. Much of the land just outside of the park is well shaded, making these campsites just as great as Bonita Campgrounds. The only trade-off is that you will need to figure out your own bathroom accommodations and bring enough water for the family.
Where to Eat-
Other than the ranger station, which has a small shop with souvenirs and snacks, there isn't any food within Chiricahua National Monument park. It is a short drive back out to Wilcox, the closest town with restaurants. While there are still not many options there, this is the closest spot if you don't bring food with you.
We stopped at Big Tex BBQ because of its intriguing exterior. It looks like a big red train car, and even inside it is a fun vibe. W+Although it was an interesting place, we were not overly impressed with the actual food. Granted, we have been all over the south and love good BBQ, so we might be tough judges.
There are tons of Mexican food restaurants in the area that could be yummy considering you are so close to the border! And a few other notable places with good reviews are The Bakesters Pastries for appetizing sandwiches and desserts or Double S Steakhouse. We love trying local eateries when we travel, and try to stay away from eating at normal chain restaurants you can find anywhere. If you (or your kids) aren't feeling adventurous though, there are plenty of Subways, McDonald's, and Denny's in the area too.
4. Grand Canyon
What to Do-
There are way too many people who have grown up in Arizona that don't ever go to the Grand Canyon! Don't let that be your kids! Take them to the grand canyon for at least one of the days on their Spring Break. https://www.nps.gov/grca/planyourvisit/ranger-program.htm The park rangers at the Grand Canyon are incredible and super involved with the people who come to see this wonder. If you want to hike with a park ranger, or be part of one of their daily educational programs, check it out on their website for all the details. Free transportation around the park is available, again visit their website for more details on how to best utilize this service.
Our guest writer, Amanda wrote a great article about 1 Day Hikes in the Grand Canyon with some valuable tips on good day hikes at the grand canyon!
Where to stay near the Grand Canyon-
When visiting the Grand Canyon for your Arizona Spring Break, there are several options of where to stay. You can camp within the boundaries of the park which you will have to book in advance and come prepared for. Since March is typically still pretty cold in Northern Arizona, this might not be the best option if you don't have gear for the whole family to comfortably do that.
There are some smaller towns nearby where you can snag a hotel for a few nights for about $150-$200 per night. You can also stay in Flagstaff and from there it is only a 1.5 hour drive to the North Rim. Check rates on nearby hotels on Expedia's website here.
5. Mount Lemmon
As one of the least talked about spots in Arizona, but definitely worth mentioning, Mount Lemmon is a great Arizona Spring Break destination. Just north of Tucson is this hidden gem, towering at over 9,000 feet in elevation at its peak. We have always really enjoyed our time up there camping and hiking and your family will too!
What to do on Mount Lemmon-
Hike Incinerator Ridge Trail to Barnum Rock & Leopold Point
-2.2 miles
-810 ft elevation gain
-moderate
You won't believe this is really Arizona. The views you will get of these beautiful mountains will leave you awestruck. This trail is considered moderately difficult because the elevation gain is just over 800 feet. There are lots of opportunities to stop & rest, so even if it takes your family a little extra time to get to the top, it is doable. If your kids are up for it, it is absolutely worth it. This is a fantastic day hike on Mount Lemmon!
Fish at Rose Canyon Lake
A fun activity for the family on Mount Lemmon is going fishing at Rose Canyon Lake! This is a small lake stocked with trout monthly. A fishing license is required and there are guidelines you must follow while fishing at Rose Canyon Lake. Get all the details here on the government recreation page: https://www.fs.usda.gov/recarea/coronado/recarea/?recid=25600
Mount Lemmon Skycenter
Take your kids to the Mount Lemmon Skycenter to look through two of the largest public telescopes in the Southwest! All of the services offered at the observatory need to be reserved, so be sure to visit their website well in advance.
https://skycenter.arizona.edu/content/visit-skycenter
Where to stay on Mount Lemmon-
Rose Canyon CampGround:
When we camped on Mount Lemmon, we stayed at Rose Canyon Campground. We love this site because the campsites are not super close together, there are tall trees all around, and it is close to the lake. There was a bathroom near our campsite which was convenient, and ample space for us to spread out.
Incinerator Ridge Dispersed Camping
When we were hiking Incinerator Ridge, we realized there was a dispersed camping area with many campsites setup! This is a great option if you are looking for a free campsite or the others are already booked out for spring break. Just note that these are on a first come, first serve basis. There are not bathrooms nearby the campsites like at Rose Canyon Campground or any of the other sites further down Mount Lemmon.
Mount Lemmon Hotel
Book the cutest modern cabins at the top of Mount Lemmon for around $300 a night. These beautiful cabins can comfortably accommodate your entire family or even a slightly larger group. Bring food from town with you as there is a full kitchen you can use! If your family pet wants to come along, there are pet-friendly cabins with a small yard included.
If you just spend the day on Mount Lemmon and are wanting to get something yummy to eat back in town, there are some incredible eats in Tucson. A few of my favorites that I will always recommend to visitors are Bobo's (for breakfast/brunch), Baggins (for sandwiches/lunch food), Guadalajara (amazing Mexican food), and Guero Canelo (Sonoran style tacos & hotdogs). For a quick bite on the road that is unique to Tucson, stop at Eegees and get their delicious slushy and a hoagie with fries.
Local Things to do for Arizona Spring Break with Kids:
POGO pass:
Here is the perfect solution to your question- What do I do in Arizona for spring break with my kids??
POGO pass grants you access to TONS of activities all over the valley for all ages. The pass is good for one year, so if you can't pack it all into the one or two weeks for spring break, you have time to get your money's worth. Some of the offers are even monthly offers so you can take advantage of that more than just once during spring break. It's the gift that keeps on giving, mama.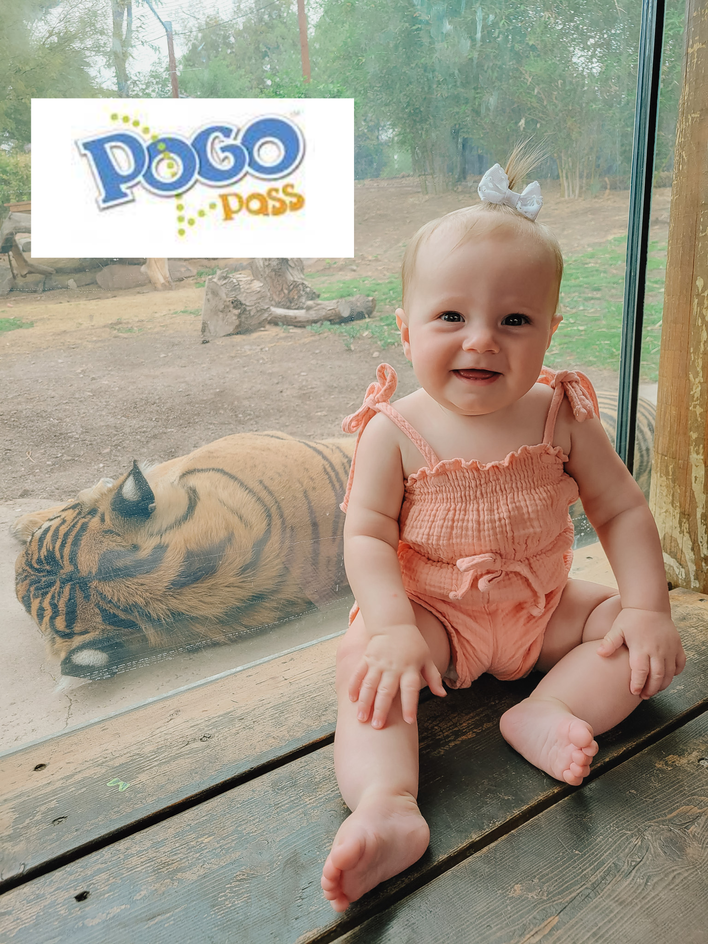 We've enjoyed Diamondbacks Games, Rattlers Football Games, as well as several trampoline parks and amusement parks around the valley. You even get into the zoo once a year for free! The participating vendors change every once in a while, so check out the website to see what all is included for the Phoenix area.
Follow this link for a significant discount on your POGO Pass ! Renewal prices are subject to change, so be sure to snag it before it goes up!
There are always awesome deals on groupon.com for local activities for the family. Maybe you don't want to commit to the POGO pass but you'd still like to try out a trampoline park with the kids. Groupon is a great way to do a single-day visit to somewhere like that. In Arizona, I frequently see groupons for discounted tickets to the Phoenix Zoo, Wildlife Zoo, bowling, and other fun activities that will keep the kids entertained. And help you keep your sanity through the break.
If you are thinking you want to do a little staycation or even a getaway that takes you a little further from home, always check Groupon for deals! A lot of the time they have discounted hotel rooms, theme park tickets, as well as all-inclusive packages.
Hiking
Find all the best East Valley Hikes for Kids on my other post! Spring is the perfect time to get outside and hike. This is a great affordable option that will also tire them out!